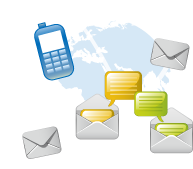 Brastel SMS (Short Message Service)
Want to send short messages to mobile phones overseas?
Brastel can deliver them for you.
Over 200 destinations available.


Type here to search for your destination...

...or click here to view the full list.

We deliver short messages to the following carrier(s) in :
We're sorry. We cannot deliver short messages to at the moment.
How to send short messages
Register

*

Purchase

Send
*Registration is only required once per each mobile phone you send short messages from.
Register your mobile phone number on your Brastel Card if you have not done so yet.
From your mobile phone, send an email to

join@brastelsms.com

with your mobile phone number in the message body. You can scan the QR Code on the right for the email address.
Quantity
Price
05

¥

75

¥

10

¥

150

¥

20

¥

300

¥

50

¥

650

¥

100

¥

1,100

¥

200

¥

2,000

¥
Purchase by phone
| | | | | |
| --- | --- | --- | --- | --- |
| Dial | 0091 | 20 | 748 | |
Send an email to [country code + mobile phone number]@brastelsms.com
xx
xxxxxxxxxx
mobile phone number
@brastelsms.com
Type your message in the email body (up to 145 characters )

Please use alphanumeric characters only.

abcdefghijklmnopqrstuvwxyz

ABCDEFGHIJKLMNOPQRSTYVWXYZ

0123456789,.:*!?/

Leave subject blank.
If you send messages to Indonesia or the Philippines with provider B, the recipients can reply to your messages for the cost of a local (domestic) SMS.
They must reply to your message leaving the subject blank, and typing in the message body your mobile phone number without the country code, followed by a colon (:) and the message:
09012345678:Hello! How are you?
How to check remaining messages
To check remaining messages, please send an empty email from your mobile phone to check@brastelsms.com.