ABOUT US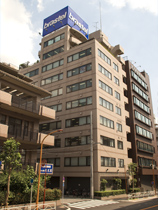 Brastel Co., Ltd. is a Tokyo-based telecommunications company established in 1996 that provides international calling services to over 190 countries and territories around the world at economical 24-hour flat rates—attending both the foreign community in Japan and Japanese nationals with friends and family abroad.
The company is the only one to offer native speaker customer service in over 15 languages. Diverse cultural skills and specialized training enable Brastel's staff to provide the highest level of service to its customers in Japan.
Brastel is also one of the first to implement a customized CRM technology to effectively develop customer profiles and follow-up on their specific needs. This entrepreneurial spirit was central to the launching of Brastel Card, the first rechargeable international prepaid card in the world that allow customers to instantly add more credit to their cards at 44,000 convenience stores throughout Japan.
FACTS AND FIGURES
Corporate name
Brastel Co., Ltd.
Address
2‐6‐2 Yokoami
Sumida‐ku
Tokyo 130-0015
Tel
03-5637-5900
URL
www.brastel.com
Established
December 2, 1996
Capital
30 million yen
CEOs
Junji Tanabe, Kendi Kawai
Yearly Revenues
Approx. 2.49 billion yen (August, 2015)
Number of Employees
149 (May, 2015)
Business Description
International calling service
Business phone (IP-Centrex) service
Remittance service (Director General of Kanto Local Finance Bureau No. 00016)
Leading Market
Foreign community and medium and small sized companies in Japan
Major Business Partners
(in random order)
KDDI Corporation
SOFTBANK Corp.
Nippon Telegraph and Telephone East
Nippon Telegraph and Telephone West
NTT DOCOMO, Inc.
Fusion Communications, Inc.
Internet Initiative Japan Inc.
Belgacom ICS (BICS SA)
IDT Telecom Asia Pacific Limited
Mitsubishi Eletric Information
Network Corporation
Globe Telecom, Inc.
Merchantrade Asia SDN BHD
Famima.com Co., Ltd.
Circle K Sunkus Co., Ltd.
MINISTOP Co., Ltd.
SAXA, Inc.
and others
Main Banks
Mizuho Bank, Ltd.
Bank of Tokyo-Mitsubishi UFJ, Ltd.
Sumitomo Mitsui Banking Corporation
Resona Bank, Ltd.
Subsidiaries
ZIP Telecom Co., Ltd.